Figure 4 of Clout, Mol Vis 2003; 9:440-448.
---
Figure 4. Local structure around the βig-h3 residues mutated in the rarer forms corneal dystrophies
A: Leu518; B: Leu527; C: Thr538; D: Asn544; E: Ala546; F: Asn 622 and Gly623; G: His626; H: Val631. In each panel, the βig-h3 polypeptide chain is represented by a light blue trace. Residues mutated in corneal dystrophies are shown in atomic detail and colored as in Figure 3B. Residues in the local environment (within 4 Å of the mutated residue, except for B where residues lining the surface groove are displayed) are also shown in atomic detail and colored pink. Hydrogen bonds are indicated by black broken lines.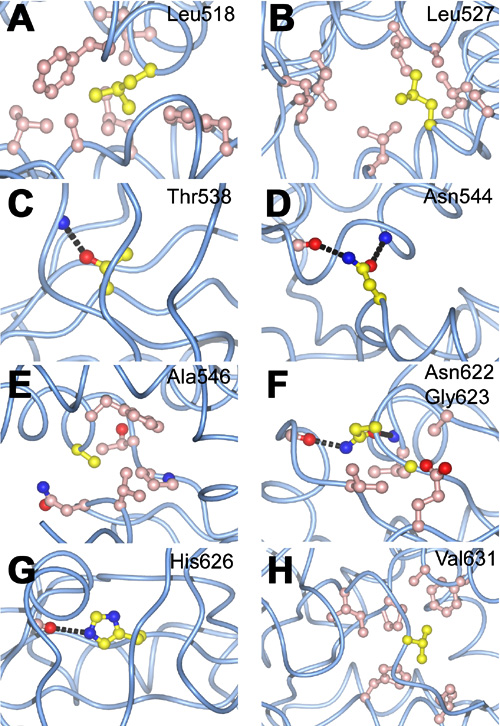 ---
Clout, Mol Vis 2003; 9:440-448 <http://www.molvis.org/molvis/v9/a56/>
---
©2003 Molecular Vision <http://www.molvis.org/molvis/>
ISSN 1090-0535