Figure 1 of Frederikse, Mol Vis 2004; 10:794-804.
---
Figure 1. RT-PCR and immunoblot analysis of genes involved in AβPP mediated cargo and synaptic vesicle trafficking
A: RT-PCR analysis of lens expression of transcripts associated with AβPP mediated vesicle transport. Random primed lens RNA was amplified using gene specific primers listed in Table 1. Top row: cDNA products representative of three lenses corresponding to AβPP, Alzheimer precursor-like proteins (APLPI, APLPII), microtubule associated Tau protein and Jun N-terminal Kinase Interacting Protein (JIP1b). Middle row: Kinesin Light Chains (KLCI, KLCII), AβPP binding protein Fe65, and Kinesin Heavy Chains (KIF5A, KIF5B), and cDNAs corresponding to cAMP dependent Protein Kinase A (PKA) and Calcium/Calmodulin dependent Kinase I (CaMKI). Bottom row: synapsins I, II, III, synaptotagmin I (syt I), synaptophysin I (syp I), and GTP binding proteins Rab5 and Rab3A (two primer sets). All cDNAs were sequenced to confirm their identity. A representative control (no RT) is present in the lower panel. B: Western blot detection of synapsin I, synapsin II, KIF5B, tau, synaptotagmin I, and synaptophysin I in lens protein samples. Crude soluble and insoluble fractions preparation are described in Methods and total brain protein samples have been included for comparison. Diagnostic molecular weights are indicated.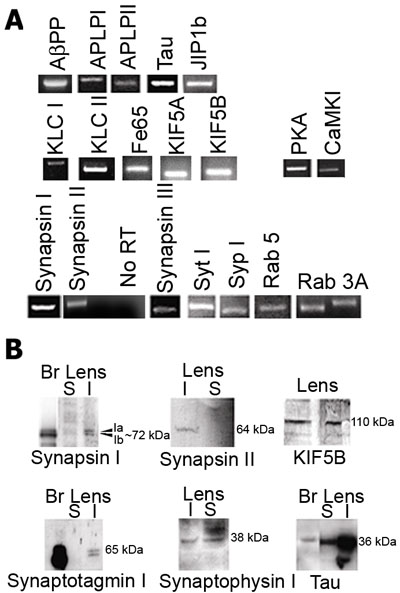 ---
Frederikse, Mol Vis 2004; 10:794-804 <http://www.molvis.org/molvis/v10/a94/>
---
©2004 Molecular Vision <http://www.molvis.org/molvis/>
ISSN 1090-0535