Figure 3 of Rohrer, Mol Vis 2003; 9:18-23.
---
Figure 3. Analysis of retinal organization in retina organ cultures
Retinal layers are indicated on the Toluidine blue stained section in the upper right panel. Retinas grown in organ culture expressed an elevated level of glial fibrillary acid protein in the radial Mueller glial cells (A), irrespective of the genotype of the animal. Calbindin-antibodies (B) identified amacrine (inner half of the INL), displaced amacrine (RGC layer) and horizontal cells (outer half of the INL), and revealed sprouting of horizontal cell dendrites into the outer nuclear layer (arrows). Dopaminergic amacrine cells were identified by tyrosine hydroxylase immunohistochemistry in the wild type retina, but were absent from the knockout retina (C). Recoverin-antibodies labeled both photoreceptors and some cell bodies in the INL (arrows) in trkB+/+ and trkB-/- retinas with equal intensity (D). To distinguish whether the cell bodies in the INL belong to cone OFF-bipolar cells or to migrating rod photoreceptors, double labeling immunohistochemistry with antibodies against rhodopsin (FITC; rod specific) and recoverin (Texas Red; recoverin is expressed in both rods and cone OFF-bipolar cells) confirmed that these cell bodies were indeed bipolar cells (color inset of D). Scale bar represents 20 μm. The ganglion cell layer (GCL), inner plexiform layer (IPL), inner nuclear layer (INL), outer plexiform layer (OPL), outer nuclear layer (ONL), inner segments (IS), and outer segments (OS) are labeled.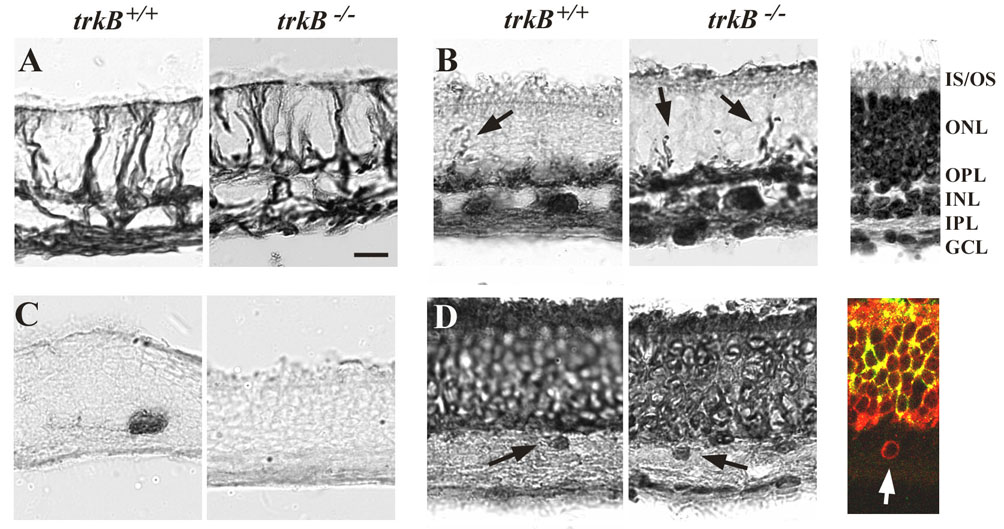 ---
Rohrer, Mol Vis 2003; 9:18-23 <http://www.molvis.org/molvis/v9/a4/>
---
©2003 Molecular Vision <http://www.molvis.org/molvis/>
ISSN 1090-0535