Figure 10 of Liou, Mol Vis 2002; 8:483-493.
---
Figure 10. A scheme for growth factor mediated regulation of RPE morphology
A simplified hypothetical scheme of growth factor (GF) mediated regulation of RPE morphology in normal and diseased cells. In normal RPE (left), cell adhesion is maintained by catenin complex and uncomplexed β-catenin is degraded by GSK3/APC/axin complex. In the presence of abnormal activities of growth factors (right), cell surface β-catenin becomes a transcription factor in the nucleus to promote cell migration. APC, Adenomatous Polyposis Coli protein; GSK3b, Glycogen Synthase Kinase-3b; TCF, T-Cell factor; AP-1, Activated Protein-1; ERK, Extracellular Signal Regulated Kinase; RTK, Receptor Tyrosine Kinase.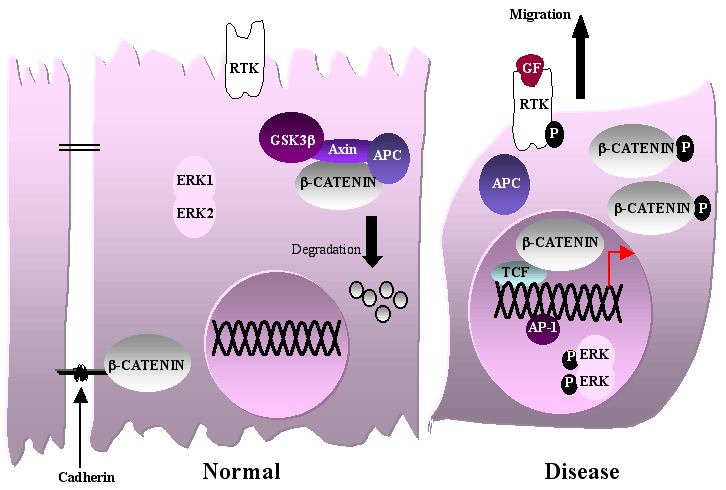 ---
Liou, Mol Vis 2002; 8:483-493 <http://www.molvis.org/molvis/v8/a59/>
---
©2002 Molecular Vision <http://www.molvis.org/molvis/>
ISSN 1090-0535