Figure 8 of Sullivan, Mol Vis 2002; 8:102-113.
---
Figure 8. Rz2B fails to cleave a tempered (GUC`->GUG, V230V) substrate
The V230 codon GUC` was silently mutagenized to GUG (V230V), which continues to code for valine but GUG is not cleaved by a hRz. The change was engineered into the truncated V230V opsin S mRNA (510 nt) and cleavage reactions were conducted at a [S] concentration of 556 nM in 20% v/v formamide. Increasing the molar ratio of Rz2B:[V230V GUG S] does not promote S cleavage over 1 h at 37 °C. Lanes 1-6 show [E]:[S] ratios at 1:1, 6:1, 10:1, 25:1, 50:1, and 100:1. The [E]:[S] ratio is shown in the header. Lane 7 is a cleavage reaction without Rz2B, and Lane 9 is an RNA ladder. The position of the broken arrows indicates the expected location of the products (198 nt, 310 nt) if Rz2B cleavage had occurred at the V230 site. The background degradation represents nonspecific thermochemical cleavage or incomplete transcription products. If cleavage products had occurred they would have appeared in the low background regions found in each lane and would have been easy to recognize, especially since the same reaction conditions support approximately 50% cleavage of WT truncated S.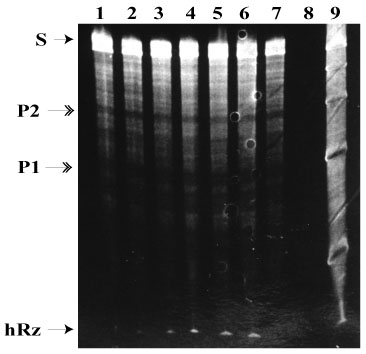 ---
Sullivan, Mol Vis 2002; 8:102-113 <http://www.molvis.org/molvis/v8/a14/>
---
©2002 Molecular Vision <http://www.molvis.org/molvis/>
ISSN 1090-0535