Figure 3 of Akhmedov, Mol Vis 2002; 8:79-84.
---
Figure 3. Radiation hybrid mapping of cCRX on the whole genome dog/hamster RH3000 panel
The gene is mapped to the centromeric part of CFA1 in a region of conserved synteny with HSA19q13-q13.3 (human cytogenetic position of gene markers is indicated in the right panel). Tetranucleotide markers FH2326 and FH2634 used for linkage analysis are shown in bold.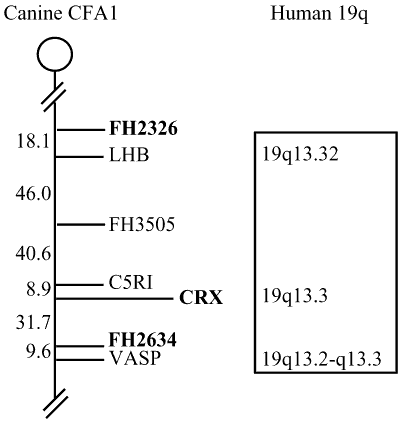 ---
Akhmedov, Mol Vis 2002; 8:79-84 <http://www.molvis.org/molvis/v8/a11/>
---
©2002 Molecular Vision <http://www.molvis.org/molvis/>
ISSN 1090-0535