Figure 3 of Lewis, Mol Vis 2001; 7:164-171.
---
Figure 3. Serine phosphorylation of Cx46
Three rat lenses (from three separate rats/group) were dissected, immunoprecipitated with anti-Cx46 antisera (1:1000) and, after western blotting, reacted with anti-phosphoserine antisera (Transduction Labs, 1:1000). Equal PKCg and equal Cx46 were present on lanes for control, galactose (40% galactose for 6 days), or galactose + HAR-1 (given at 100 mg/kg body wt/day, orally). A: Typical western blot with arrow at 46 kD indicating Cx46. B: Scans of western blots (the average from three separate blots, including the standard error of the mean). The numbers below (in parentheses) are average pixel intensity numbers.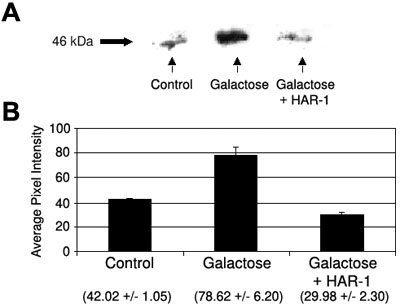 ---
Lewis, Mol Vis 2001; 7:164-171 <http://www.molvis.org/molvis/v7/a23/>
---
©2001 Molecular Vision <http://www.molvis.org/molvis/>
ISSN 1090-0535