Figure 3 of Wang, Mol Vis 2001; 7:89-94.
---
Figure 3. Agarose gel analysis of total RNA and RT-PCR products
A: RNA isolated from RNAlaterTM preserved human ocular tissues using either RNAqueous-4PCR (Lanes 1-5) or ToTALLY RNA (Lanes 6-9) on an EtBr-stained denaturing agarose gel. Each lane contains 1 mg of RNA. B: RNA quality was determined by RT-PCR amplification of the house-keeping gene GAPDH. RNA examined was from the following ocular tissues: iris (lane 1), ciliary body (lane 2), choroid/RPE (lane 3), trabecular meshwork (lane 4), retina (lane 5), lens (lane 6), cornea (lane 7), optic nerve (lane 8), and optic nerve head (lane 9).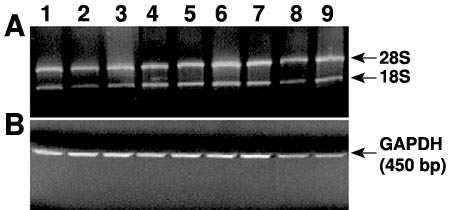 ---
Wang, Mol Vis 2001; 7:89-94 <http://www.molvis.org/molvis/v7/a13/>
---
©2001 Molecular Vision <http://www.molvis.org/molvis/>
ISSN 1090-0535