Figure 4 of Al-Ghoul, Mol Vis 1999; 5:6.
---
Figure 4. Scanning electron micrographic magnification series of a fiber peel taken from a 2.5-month old RCS rat lens.
A view of the entire peel (A) shows fibers that had approached the anterior pole (AP) displayed normal opposite end curvature to form a suture branch (arrow), whereas fibers that had approached the posterior pole (PP) interfaced with the ends of upturned fibers in the plaque. Note that the overgrowth had not yet reached the posterior pole in this specimen. At higher magnification (B), the posterior ends of fibers directly over the plaque displayed concavities which were complementary to the enlarged ends of fibers comprising the plaque. The posterior ends of fibers also lacked fiber-fiber interdigitations (C) which were present along the rest of the fiber length (arrowheads).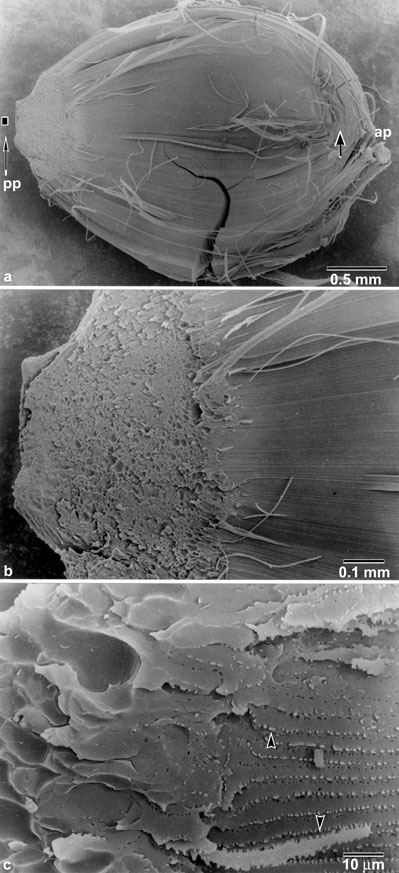 ---
Al-Ghoul, Mol Vis 1999; 5:6 <http://www.molvis.org/molvis/v5/p6/>
---
©1999 Molecular Vision <http://www.molvis.org/molvis/>
ISSN 1090-0535