Figure 1 of Clarke, Mol Vis 4:3, 1998.
---
Figure 1. TAPA in the Normal Rat Retina
Normal retina stained with the AMP1 antibody (A) shows distinct laminar patterns of staining. Blood vessels in the ganglion cell layer are distinctly outlined by the AMP1 antibody (arrow). In the inner nuclear layer and the outer nuclear layer the cell bodies are outlined by the AMP1 antibody. The high level of staining in the photoreceptor layer is due to autofluorescence (double asterisk). The sections of normal retina were stained with antibodies directed against vimentin (B) or GFAP (C). The cellular layers of the retina are indicated by: ONL, outer nuclear layer; INL, inner nuclear layer; GCL, ganglion cell layer. The scale bar in C represents 50 µm.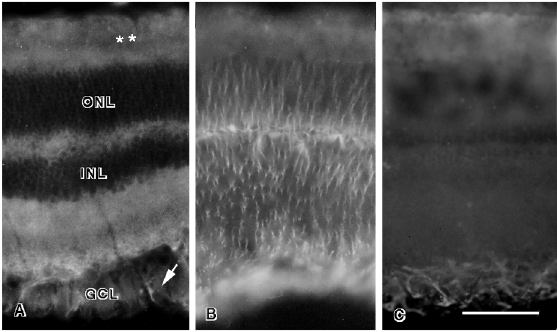 ---
Clarke, Mol Vis 1998; 4:3<http://www.emory.edu/molvis/v4/p3>
---
©1998 Molecular Vision
ISSN 1090-0535