Figure 3 of Steele et al
---
Figure 3a. Sequence of normal (top), heterozygous mutant (middle), and homozygous mutant (bottom) Lim2 exon 2 coding region.
Sequence data shown is antisense sequence. The shown C -> A transversion corresponds to a G -> T transversion in the coding strand, which results in the nonconservative substitution of Val (GTG) for Gly (GGG) at amino acid position 15 in the mutant polypeptide. (Transversion peaks at arrows and transversion positions underlined.)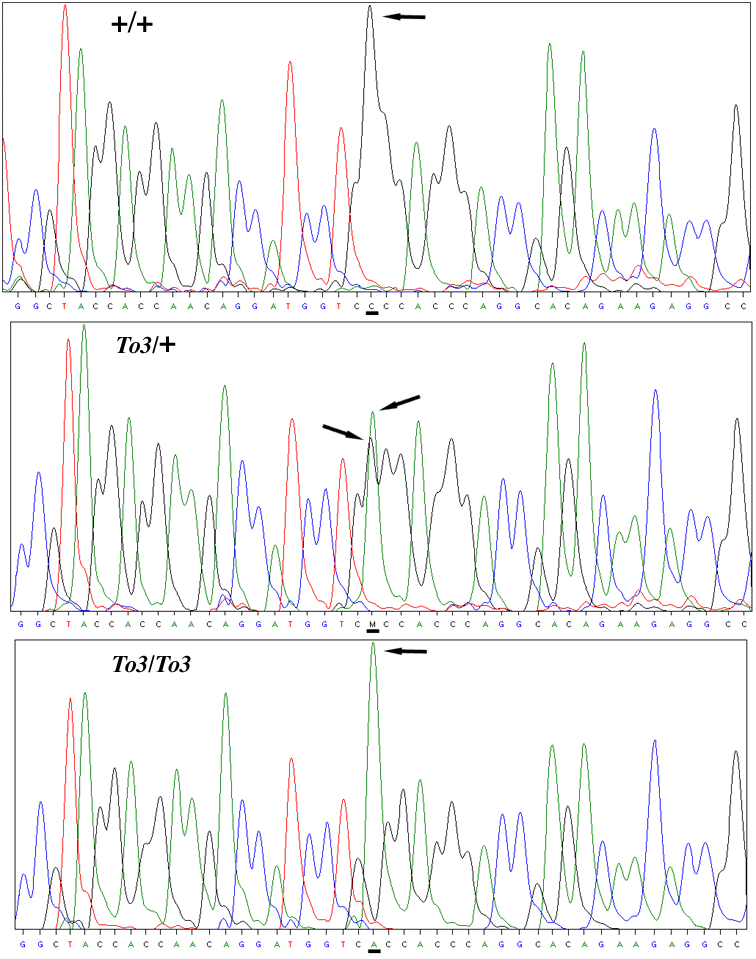 ---
Figure 3b. The G ->T transversion in the mutant coding strand creates a unique BstEII restriction endonuclease recognition site and substitutes Val for Gly at amino acid 15 in the encoded polypeptide.
					     
        +/+        5'...GCC TGG GTG GGG ACC ATC CTG ...3'
		        ALA TRP VAL GLY THR ILE LEU




                                   BstEII
       To3/To3          GCC TGG GTG GTG ACC ATC CTG
                        ALA TRP VAL VAL THR ILE LEU
---
This article may be referenced as: Mol. Vis. 3:5, 1997
<http://www.emory.edu/molvis/v3/steele>
---
©1997 Molecular Vision
ISSN 1090-0535