Figure 3 of Mol Vis 3:3, 1997.
---
Figure 3. Model of helices number 3 and 4 with their attached outer loop from the alpha-subunit of Na,K-ATPase.
The helices (single arrows) transverse the cell plasma membrane while the outer loop (double arrow) possesses a binding area for K+ ions and the inhibitor ouabain. A color legend is shown below.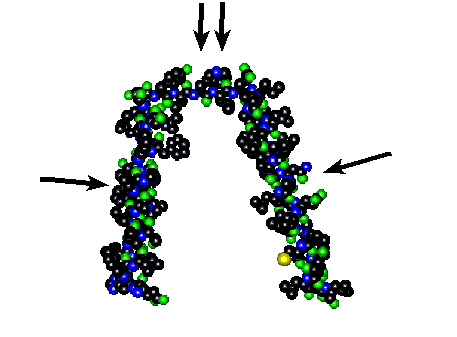 ---
| Color | Atom |
| --- | --- |
| Black | Carbon |
| Blue | Nitrogen |
| Green | Oxygen |
| Red | Phosphorus |
| Yellow | Sulfur |
| Lavender | Calcium |
---
Mol Vis 3:3, 1997 [http://www.emory.edu/molvis/v3/whikehart]
---
©1997 Molecular Vision
ISSN 1090-0535