---


Return to Non-Uniform Distribution of the NMDAR1...
---
Figure 3. NMDAR1 immunoreactivity in layers 2/3 at 4 weeks of age.
Numerous pyramidal and some non-pyramidal neurons were labelled. Apical and basal dendritic processes are labelled and the dendritic labelling pattern is denser within an NMDAR1 patch (filled arrow). Scale bar is 50Ám.
---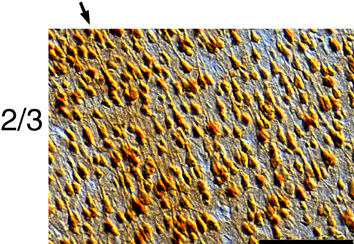 ---