Figure 3 of Joko, Mol Vis 2007; 13:649-658.
---
Figure 3. Effect of disruption of the cell-cell contact on PLZF mRNA expression
A: Effect of 3.2 mM of EDTA on the integrity of human corneal endothelial cell-cell contact. 1: No treatment: cell-cell contact is intact. 2: Incubation with EDTA for 2 h leads to moderate cell-cell separation. 3: Incubation in medium without EDTA for 24 h after incubation with EDTA for 2 h. Cell-cell contact has recovered. B: HCECs were cultured until confluent, the medium was then replaced by medium containing 3.2 mM EDTA for 2 h, and returned to the normal culture medium for 72 h. The relative expression of PLZF mRNA was determined by real-time PCR, and the amount of mRNA was calculated relative to the amount of GAPDH mRNA in the same sample. The ratio of the sample from 3 h post-incubation was set to 1. This experiment was repeated twice. C: The same experiment was performed on cultured human umbilical vein endothelial cells. The ratio of the sample from subconfluent culture was set to 1.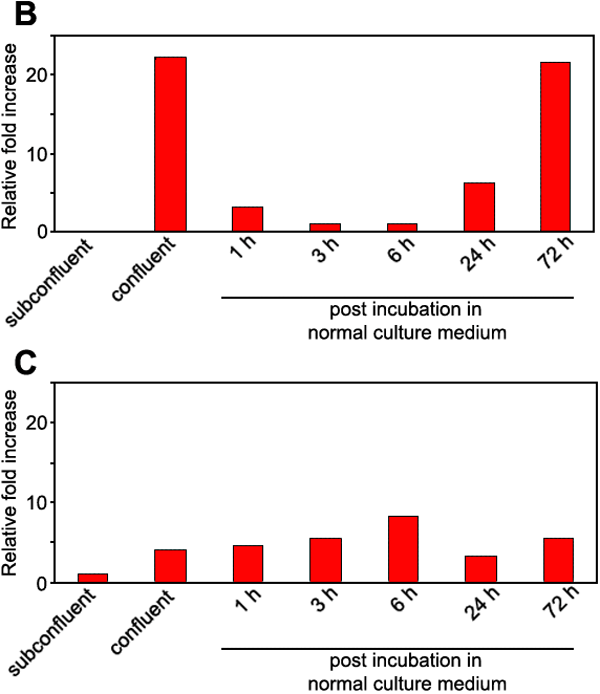 ---
Joko, Mol Vis 2007; 13:649-658 <http://www.molvis.org/molvis/v13/a71/>
---
©2007 Molecular Vision <http://www.molvis.org/molvis/>
ISSN 1090-0535