Figure 1 of Reza, Mol Vis 2007; 13:18-30.
---
Figure 1. Endogenous expression patterns of three large Mafs
Wild-type embryos were isolated at stage 16 and 24, fixed, and cryosections were prepared. Through the use of double in situ hybridization, c-Maf and L-Maf mRNAs were detected on the same samples (A-D). In both stages, c-Maf was preferentially localized in the developing lens epithelum (A and C, arrows), whereas L-Maf was strongly localized in the fiber cells (B and D, arrows). Immunostaining using anti-L-Maf antibody mimicked the same result (E-H) as that observed by in situ hybridization for L-Maf. A low expression of MafB was visualized in all lens cells at stage 26 (I). DAPI shows cell nuclei (F,H). This figure is representative of at least three independent experiments.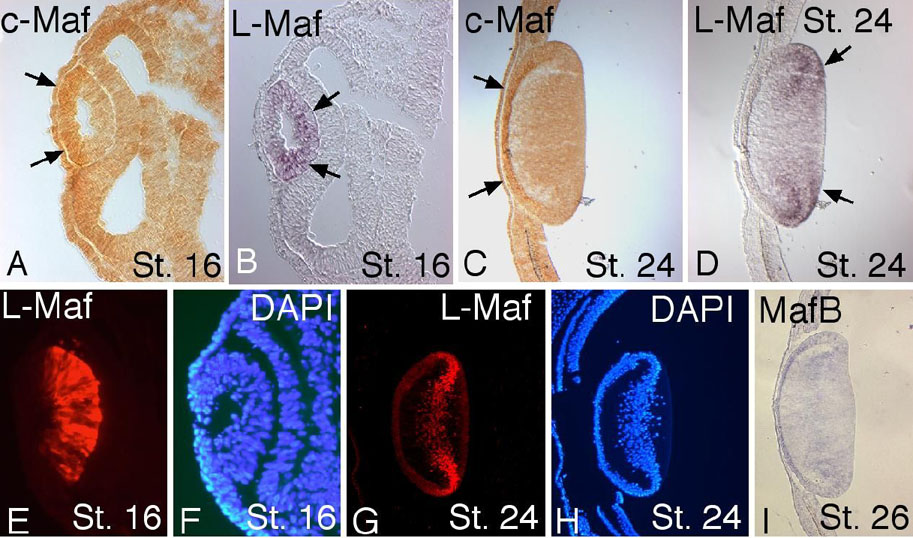 ---
Reza, Mol Vis 2007; 13:18-30 <http://www.molvis.org/molvis/v13/a3/>
---
©2007 Molecular Vision <http://www.molvis.org/molvis/>
ISSN 1090-0535