Figure 2 of Shiels, Mol Vis 2007; 13:2233-2241.
---
Figure 2. Nystagmus waveforms of affected male IV:6 (8 years old) in family W
A: Movie of eye movement recordings of affected male IV:6 (8 years of age) from family W, using binocular infrared digital video-oculography. B: Conjugate, pendular-and-increasing-velocity waveform in right (red) and left (blue) eye when fixating stationary target at straight-ahead (primary, 0°) gaze. Note very-low-velocity rounded epochs of brief foveation during each pendular cycle. C: Nystagmus converts to jerk waveform in both eyes when required to fixate a target in eccentric (16° right) gaze.
Note that the slide bar at the bottom of the quicktime movie can be used to manually control the flow of the movie. If you are unable to view the movie, a representative frame is included below.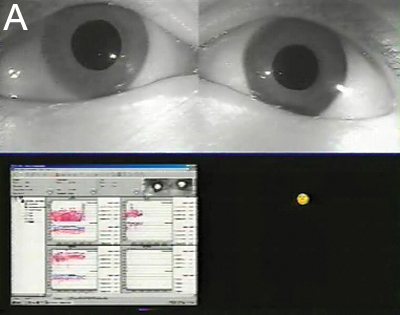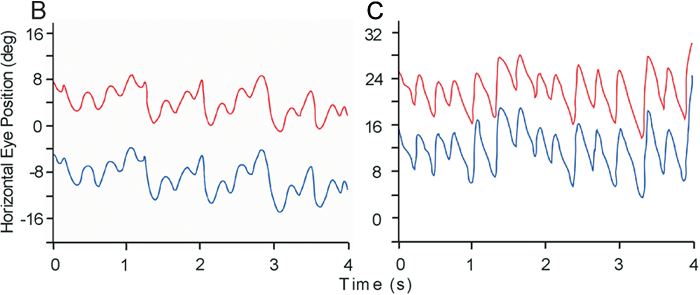 ---
Shiels, Mol Vis 2007; 13:2233-2241 <http://www.molvis.org/molvis/v13/a253/>
---
©2007 Molecular Vision <http://www.molvis.org/molvis/>
ISSN 1090-0535