Figure 1 of Hogewind, Mol Vis 2007; 13:1793-1801.
---
Figure 1. The p.Phe430Leu mutation in the Myocilin gene and a common disease haplotype
A: The chromatogram shows the heterozygous mutation (c.1288T>C; p.Phe430Leu; arrow) in exon 3 of MYOC. B: Individual II-4 (arrow) in family W05-125 is the proband. The haplotypes for microsatellite markers are shown. The different alleles are given by the amplicon lengths. The "red haplotype" contains the mutant allele; C: Similar representation as B of the mutant (red) haplotype is shown but for family W05-295. Individual II-1 (arrow) is the proband. The dotted line around the alleles at D1S2851 (B,C) denotes the difference in allele sharing. Note that the mutant (red) haplotype is the same between the two families with the same mutation (except at D1S2851).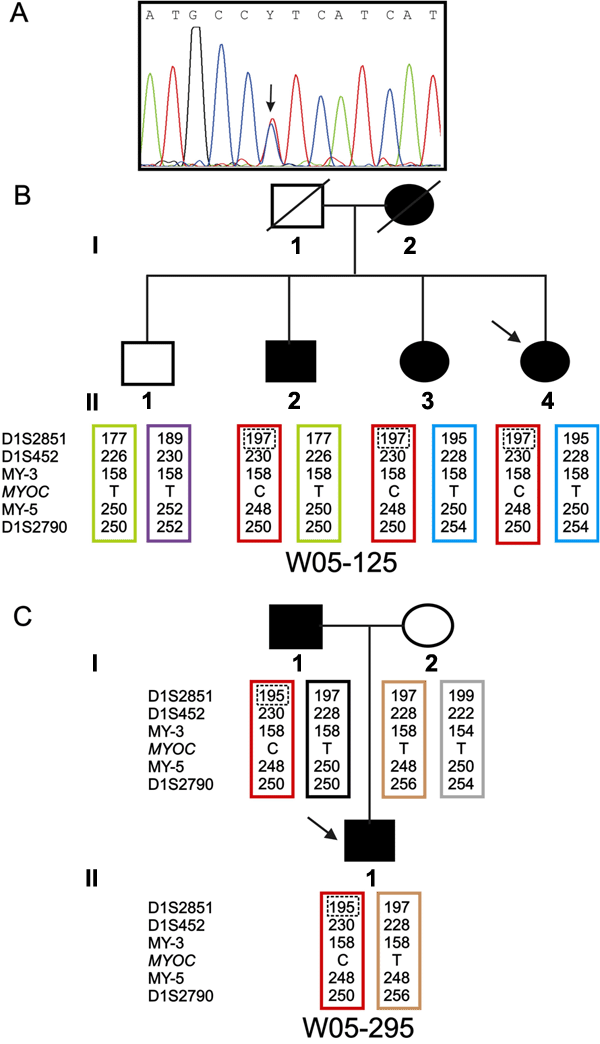 ---
Hogewind, Mol Vis 2007; 13:1793-1801 <http://www.molvis.org/molvis/v13/a200/>
---
©2007 Molecular Vision <http://www.molvis.org/molvis/>
ISSN 1090-0535