Figure 5 of Pang, Mol Vis 2006; 12:756-767.
---
Figure 5. GFP expression in retinal cells after subretinal injection in rd mice
Besides weak scattered GFP+ RPE cells, only autofluorescence is present 7 days after subretinal injection of vector at P1 (A, P1+7). GFP filled the entire RPE layer (arrow) and some photoreceptor cells (arrowhead) 9 days after injection at P1 (B, P1+9). Intense GFP+ expression was present in RPE cells (arrow) and many photoreceptor cells (arrowhead) one week after injection at P3 (C). Some GFP+ photoreceptor cells (D, arrowhead) were present at P5+7, but GFP expression in RPE was intense (D, arrow). Note the retinal detachment between arrow and arrowhead. By 8 days after injection at P7 (E, P7+8), GFP expression was present in RPE (arrow) and in several photoreceptor cells (arrowhead). It is likely that several of these nuclei (E, arrowhead) belong to cones since they are located directly below the inner segment region. GFP expression could still be detected 6 weeks after injection at P35 (e.g., P35+42 days; F,G). Besides GFP+ RPE cells throughout the eyecup (F, lower magnification bar represents 1.0 mm), GFP+ Muller cells were present only around the injection site 6 weeks following injection at P35 (higher magnification, G). Panels A-E,G have the same magnification. The scale bar represents 60 μm.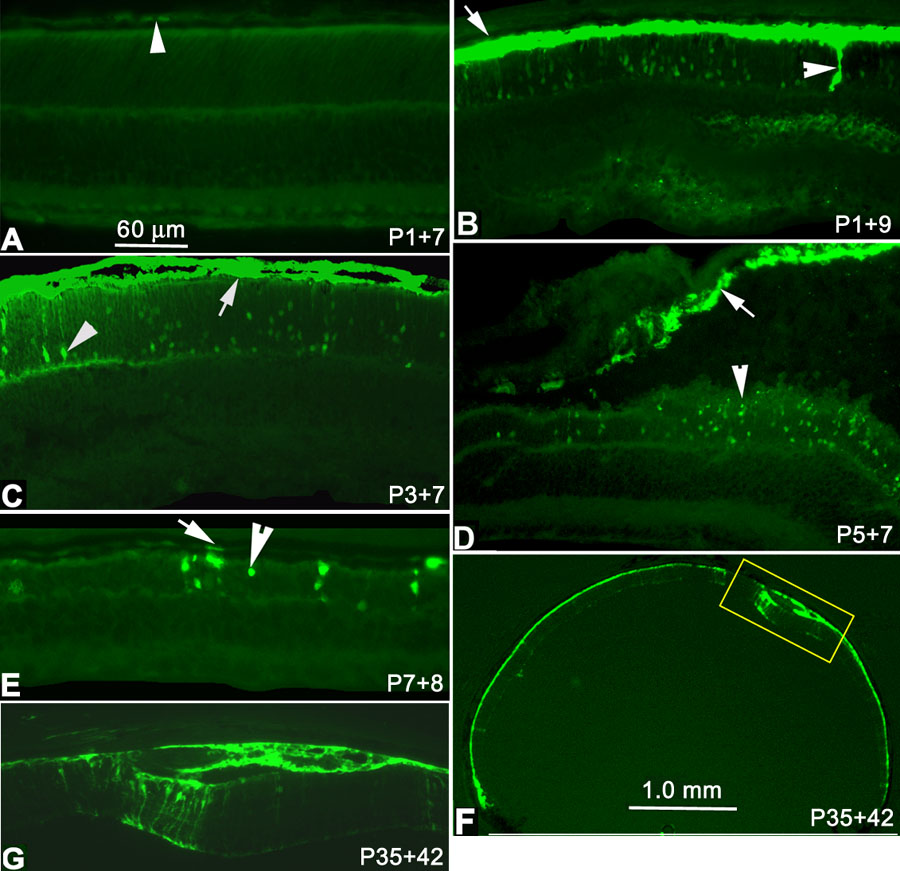 ---
Pang, Mol Vis 2006; 12:756-767 <http://www.molvis.org/molvis/v12/a85/>
---
©2006 Molecular Vision <http://www.molvis.org/molvis/>
ISSN 1090-0535