Figure 1 of Devi, Mol Vis 2006; 12:190-195.
---
Figure 1. Analysis of family 1
A: The genomic sequence of the wild type showing valine at codon 44. B: The mutant allele showing a heterozygous T>A transversion that replaces Val by Glu. C: Pedigree of family 1. D: PCR-RFLP analysis showing a gain of a TaqI site that cosegregates with the affected individuals. The unaffected individuals display a 648 bp band while the affected individuals display a 648 bp, 519 bp, and 129 bp bands. In the image, M indicates the 100 bp DNA ladder, C indicates control, and UD indicates undigested PCR product. E: A multiple alignment of amino acid sequence of GJA8 with different species and five other connexins from human. The amino acid marked in red indicates a neutral amino acid (valine, alanine, or serine) at codon 44.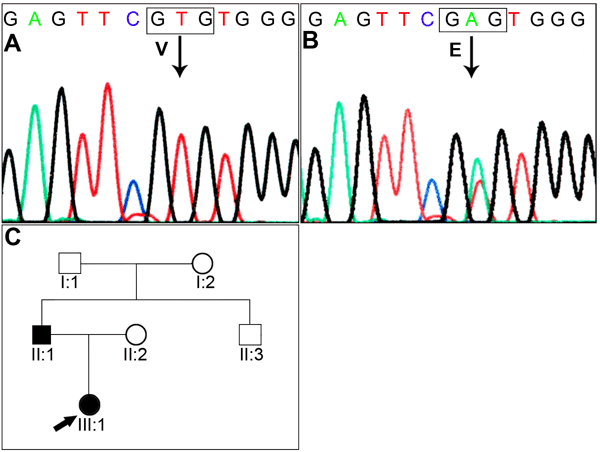 D: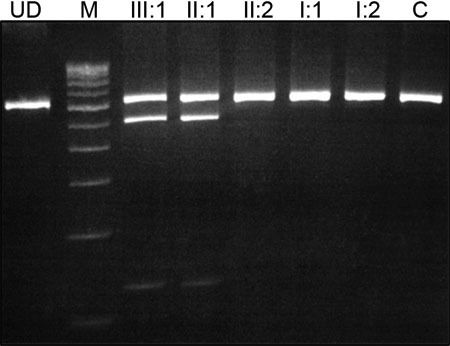 E:

CXA8_HUMAN    11   LEEVNEHSTVIGRVWLTVLFIFRILILGTAAEFVWGDEQS   50
CXA8_MOUSE    11   LEEVNEHSTVIGRVWLTVLFIFRILILGTAAEFVWGDEQS   50
CXA8_SHEEP    11   LEEVNEHSTVIGRVWLTVLFIFRILILGTAAEFVWGDEQS   50
CXA8_CHICK    11   LEQVNEQSTVIGRVWLTVLFIFRILILGTAAELVWGDEQS   50
CXA1_HUMAN    11   LDKVQAYSTAGGKVWLSVLFIFRILLLGTAVESAWGDEQS   50
CXA3_HUMAN    11   LENAQEHSTVIGKVWLTVLFIFRILVLGAAAEDVWGDEQS   50
CXA4_HUMAN    11   LDQVQEHSTVVGKIWLTVLFIFRILILGLAGESVWGDEQS   50
CXA5_HUMAN    11   LEEVHKHSTVVGKVWLTVLFIFRMLVLGTAAESSWGDEQA   50
CXA10_HUMAN   11   LEEVHIHSTMIGKIWLTILFIFRMLVLGVAAEDVWNDEQS   50

---
Devi, Mol Vis 2006; 12:190-195 <http://www.molvis.org/molvis/v12/a21/>
---
©2006 Molecular Vision <http://www.molvis.org/molvis/>
ISSN 1090-0535