Figure 1 of Chaki, Mol Vis 2005; 11:531-534.
---
Figure 1. Detection of Arg278stop mutation
A: The location of the mutation within TYR exon 2 is shown. A 12.5% SSCP gel shows characteristic band shifts for the Tili patients (lanes 1, 3), obligate carriers for the mutation (lanes 2, 4) and a normal individual (lane 5). B: A representative chromatogram is shown with the location of the homozygous mutation c.832C>T (Arg278stop) indicated by an arrow. C: The allelic difference resulting from the mutation was determined by BslI digestion of the PCR product from exon 2 of the gene. Polyacrylamide gel (6%) analysis of BslI digests from five members of a pedigree and their genotypes are shown. The mutation abolishes the BslI site. The marker lane contains pBS/HaeIII digested DNA fragments. The sizes of the molecular weight marker and the BslI digested DNA fragments are shown on the left and right sides of the gel, respectively.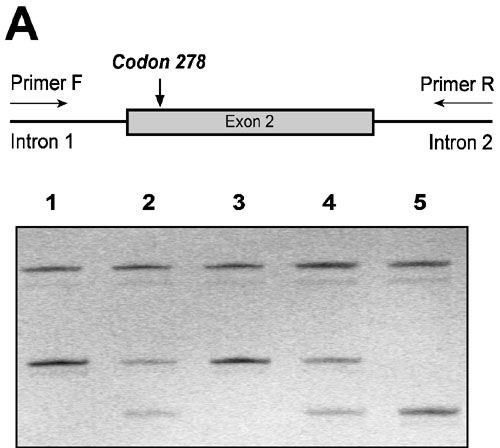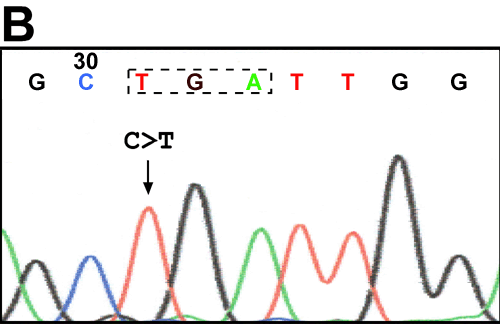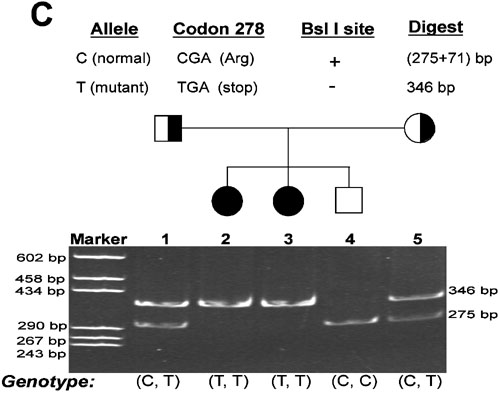 ---
Chaki, Mol Vis 2005; 11:531-534 <http://www.molvis.org/molvis/v11/a62/>
---
©2005 Molecular Vision <http://www.molvis.org/molvis/>
ISSN 1090-0535