Figure 3 of Srinivas, Mol Vis 2005; 11:249-255.
---
Figure 3. Effect of Arg·HCl on the dynamic property of the subunit assembly of recombinant human αA-crystallin at 37 °C
Subunit exchange between the oligomers of the protein was monitored by Forster Resonance Energy Transfer (FRET) between the donor fluorescent probe, AIAS labeled αA-crystallin and the acceptor fluorescent probe, LYI labeled αA-crystallin. The sample was excited at the donor excitation wavelength of 332 nm and the emission spectrum was recorded using the excitation and emission band passes of 3 nm in corrected spectrum mode. Subunit exchange was observed in buffer alone (A) and in the presence of 300 mM Arg·HCl (B). In both the panels, fluorescence spectra recorded immediately (within 2 min) after mixing the donor and acceptor probe labeled αA-crystallin (solid line); after 30 min, (dashed line); and after 60 min, (dash-dot line) incubation. Inset shows the plot of F0/F as a function of time where F0 and F are the initial fluorescence of the donor and that at a given time at 410 nm in buffer alone (open circle) and in buffer containing 100 mM Arg·HCl (closed circle), 200 mM Arg·HCl (open triangle), and 300 mM Arg·HCl (closed triangle).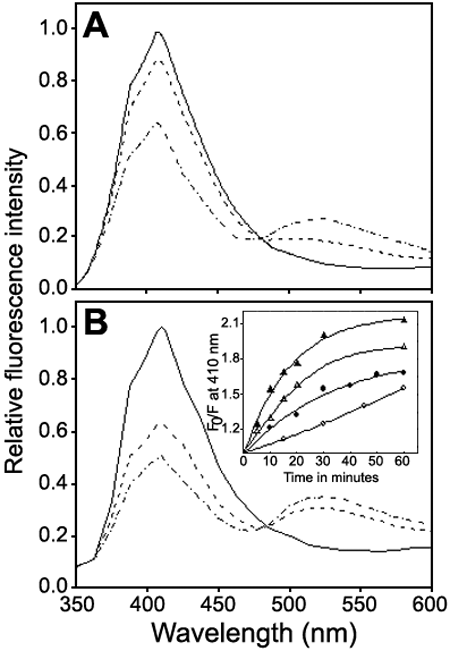 ---
Srinivas, Mol Vis 2005; 11:249-255 <http://www.molvis.org/molvis/v11/a29/>
---
©2005 Molecular Vision <http://www.molvis.org/molvis/>
ISSN 1090-0535