Figure 7 of Robinson, Mol Vis 2005; 11:1211-1219.
---
Figure 7. Mass spectrum of the Glu162 mutant and Gln162 wild type βB2-crystallin
Mass spectrum of the 70% Glu162 mutant and 30% Gln162 wild type of human eye lens βB2-crystallin. This mixture was diluted to 0.0075 mg/ml total protein with 49/49/2 H2O/methanol/acetic acid. This acidified sample was introduced into a Z-type electrospray source at a flow rate of 5 μl/min. The 803 Da protein ion with charge state +29 was isolated in the second quadrupole and accumulated in the third quadrupole before being injected into the ion cyclotron resonance cell. In the analyzer cell, the +29 ion was irradiated with a 25 W continuous wave CO2 laser at 20% of full intensity, which produced several fragments including the 18 residue and 14 residue fragments that contained sequence position Q/E162 and were used for quantitative analysis. The +2 charge, m/z=1051.5, 18 residue PGYRGLQ/E162YLLEKGDYKDS fragment is illustrated here. This analysis was carried out in an IonSpec QFT-9 Fourier transform mass spectrometer with ten 20 s Fourier transform scans. Red insets are magnified horizontally 2.5x.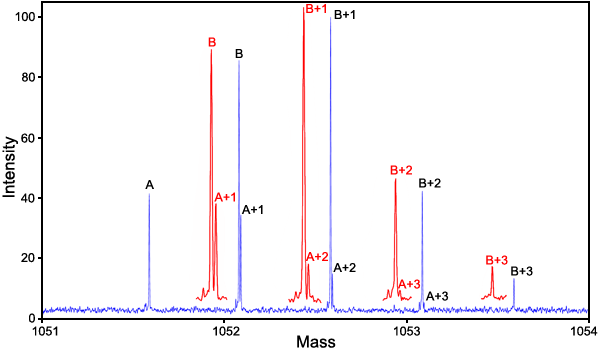 ---
Robinson, Mol Vis 2005; 11:1211-1219 <http://www.molvis.org/molvis/v11/a138/>
---
©2005 Molecular Vision <http://www.molvis.org/molvis/>
ISSN 1090-0535