Figure 3 of Fautsch, Mol Vis 2004; 10:417-425.
---
Figure 3. Schematic diagram of myocilin
A: Top numbers represent location of cysteine amino acids found in human myocilin. The clinical mutation Arg82Cys represents a cysteine substitution at amino acid 82 for arginine. The clinical mutation Cys433Arg represents a arginine substitution at amino acid 433 for cysteine. B: Schematic diagram of fusion proteins used for in vitro disulfide bond studies. Dots indicate where a cysteine amino acid was changed to alanine. C1 through C5 represent amino acids 47, 61, 185, 245, and 433, respectively. Abbreviations are denoted as follows: HA, N-terminal tag containing an epitope for a hemagglutinin polyclonal antibody; SP, signal peptide sequence; LZ, leucine zipper motif.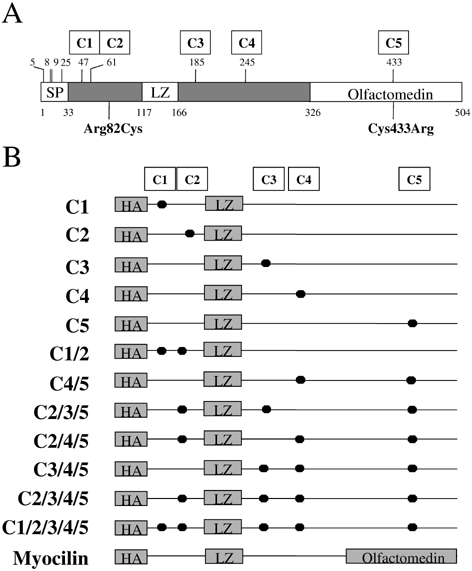 ---
Fautsch, Mol Vis 2004; 10:417-425 <http://www.molvis.org/molvis/v10/a52/>
---
©2004 Molecular Vision <http://www.molvis.org/molvis/>
ISSN 1090-0535