Figure 4 of Boehlke, Mol Vis 2004; 10:867-873.
---
Figure 4. Confirmation of the 55 kDa protein reactive with E17 to be cytokeratin 12 by in-gel digestion and MALDI-TOF
A: The 55 kDa protein band (arrow) was excised from the silver stained, two dimensional electrophoresis gel. B: MALDI-TOF MS analysis showed a monoisotopic peptide mass fingerprint spectrum of the protein extracted from the 55 kDa band. C: A Mascot search showed the matched peptides (in red) from the isolated 55 kDa protein accounted for 51% of the protein sequence of cytokeratin 12. D: A probability based Mowse score of 147 (arrow) indicated that the identified peptides match the cytokeratin 12 protein sequence with a high degree of certainty. The shaded area represents scores with the greatest statistical uncertainty. The Mowse score is derived from (-10)log10(P), where P is the probability that the observed match is a random event. Mowse scores greater than 63 (or p<0.05) are considered a significant match of the proteins. The shaded area showed that matching of these tryptic peptides by Mascot search with other protein sequences yielded Mowse scores lower than 63 and the tryptic peptides from 55 kDa did not match significantly (p>0.05) with any protein other than cytokeratin 12 (Mowse scoring is described in detail on the Matrix Science web site).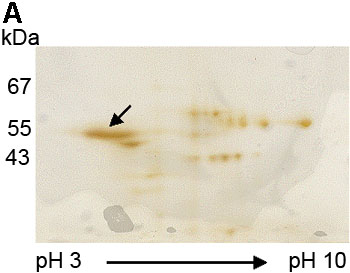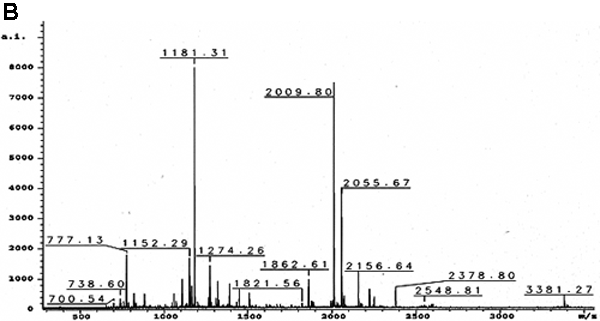 C:

  1 MDLSNNTMSL SVRTPGLSRR LSSQSVIGRP RGMSASSVGS GYGGSAFGFG
 51 ASCGGGFSAA SMFGSSSGFG GGSGSSMAGG LGAGYGRALG GGSFGGLGMG
101 FGGSPGGGSL GILSGNDGGL LSGSEKETMQ NLNDRLASYL DKVRALEEAN
151 TELENKIREW YETRGTGTAD ASQSDYSKYY PLIEDLRNKI ISASIGNAQL
201 LLQIDNARLA AEDFRMKYEN ELALRQGVEA DINGLRRVLD ELTLTRTDLE
251 MQIESLNEEL AYMKKNHEDE LQSFRVGGPG EVSVEMDAAP GVDLTRLLND
301 MRAQYETIAE QNRKDAEAWF IEKSGELRKE ISTNTEQLQS SKSEVTDLRR
351 AFQNLEIELQ SQLAMKKSLE DSLAEAEGDY CAQLSQVQQL ISNLEAQLLQ
401 VRADAERQNV DHQRLLNVKA RLELEIETYR RLLDGEAQGD GLEESLFVTD
451 SKSQAQSTDS SKDPTKTRKI KTVVQEMVNG EVVSSQVQEI EELM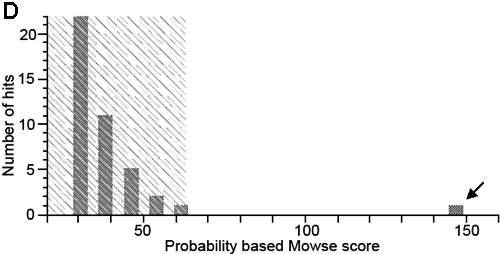 ---
Boehlke, Mol Vis 2004; 10:867-873 <http://www.molvis.org/molvis/v10/a104/>
---
©2004 Molecular Vision <http://www.molvis.org/molvis/>
ISSN 1090-0535